Student Mail Pick Up
Student mail is ready for pick up once you have received an email notification from the Lancer Post Office.
Mail or packages will be returned to the sender after 30 days.
Student Mailing Address
Student mail should be addressed for delivery to the Lancer Post Office.
First and Last Name
201 High Street
Six digit box number (no PO in front of Box Number)
Farmville, VA 23909
How to find your LU Box Number:
Login to myLongwood and then click on the Student tab,
Find the myLongwood Services channel
Click the Banner Self-Service folder
Click the Personal Information folder
Select View Addresses and Phones
Your Longwood Box will be listed as Residential Box Address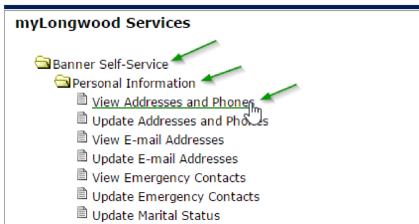 Purchases & Payments
We accept cash, Lancer Cash, and personal checks. Please make checks out to Longwood University.
*No credit or debit cards at this time*
Questions
Email lancerpostoffice@longwood.edu or call (434)395-2116.